On September 11, 2011 Tropical Storm Irene descended on our lake community, wreaking devastation far and wide. The flooding and subsequent degradation of river and stream banks resulted in the depositing of an estimated 1,200 cubic yards of sediment into Round Pond, particularly around the mouth of the Black River inflow, making navigation dangerous or impossible in that area.
View Tropical Storm Irene Photos.
In June 2012 the LRA submitted a Dredging Application which was approved by the Vermont Agency of Natural Resources (ANR) to commission a dredging project to remove a significant amount of this sediment. ANR found, among other things, that our proposal would improve the recreational access to the lake and river and would protect water quality by removing sediments which are stirred up by boaters and high velocity flows.  They also found that there would be no adverse effects on fish and wildlife habitats, or on aquatic and shoreline vegetation. While there will be short-term negative impacts in the work area, the completed project will have an overall positive effect on access and water quality.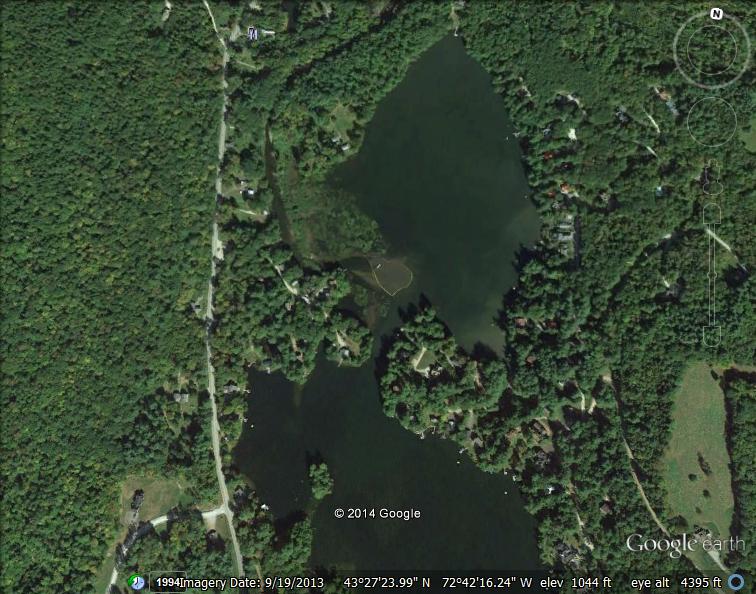 The Dredging Permit was granted subject to 23 conditions, which ranged from specifying how the silt screens are to be installed to how equipment was to be cleaned prior to immersion in the lake. The large number of stipulations combined with contractor negotiations and restrictions due to weather and summer recreational activity on the lake resulted in the project beginning in early September 2013. In addition to needing state approval, LRA bylaws stipulate that the LRA membership must vote to ratify projects undertaken by the board that involve member donations above regular dues, which they did via a special meeting and by proxy vote on November 10, 2012.
On September 3, our contractor, Chris Sheldon, and his crew arrived. The first few days were spent setting up the boat launch site, installing the silt fencing in the water and assembling the pipes which ran toward the mouth of the river in Round Pond. Actual dredging began on Tuesday, September 10th and continued until October 1st. About 600 cubic yards of material was removed and donated to the Ludlow Cemetery, thanks to the extremely generous donation of trucking services by M&M Excavation and owner Mike O'Neil, a lake resident. The initial volume estimate, 1200 cu. yd., did not properly account for the density of the material removed. Once the water drained away there was less material than originally estimated.
A Capital Campaign was undertaken by LRA in 2012, and with the generous support of over 105 LRA members, raised approximately $79,550, which funded 93% of the total cost of the dredging, $85,436. The remainder came from LRA's Rescue Our Lakes fund.