Rescue our Lakes Campaign 2020-2022
Goal:  $250,000
Lake Rescue and Lake Pauline are in trouble.  We need your help.
DONATE NOW
The LRA uses its funds, most of which come from our membes, to maintain many initiatives, some planned and some unexpected, to keep our lakes healthy and beautiful for us and future generations to enjoy. Today, we face an unprecedented crisis in the explosive growth of the invasive aquatic plant, Eurasian Milfoil, as well as dangerous levels of sedimentation buildup entering our lakes from tributaries and the Black River inlet in Round Pond.
In 2020, we determined that extreme measures are now needed and have put in motion an aggressive mitigation plan which will require significant outside resources. The LRA Board of Directors and its Rescue Our Lakes (ROL) Fundraising Committee have launched a major campaign, with the goal of raising $250,000 over the next 2-3 years.
Scroll down to find more about the ROL projects to be funded.  In summary, our needs include:
$30,000 to purchase, insure, and maintain our own Diver Assisted Suction Harvesting (DASH) boat to be commissioned spring 2021, which will dramatically increase our milfoil harvesting capabilities;
$40,000 over the next two years for divers to manage DASH work and continue hand-harvesting;
$55,000 to replenish the LRA reserve savings, which are being depleted from increased milfoil mitigation efforts.  One major crisis or storm could erase our savings.
$125,000 to complete the state-approved dredging project in the Narrows and Black River entrance in Round Pond, probably to occur in 2022.
We cannot accomplish these vital initiatives without your support.
WAYS TO GIVE
One-time gift.  We are seeking donations of any amount.
Pledge a gift.  Please consider offering a larger donation by spreading it out over 1-3 years.  Monthly, quarterly, bi-annual, or annual installments are available.
Gift of securities.  We welcome gifts of stocks or other securities.
Give-Get.  Use your personal networks to encourage others to match your gift or contribute in any way.
DONATE NOW
---
---
MORE ABOUT OUR PROJECTS . . . . 
MILFOIL
In 2013, in the aftermath of Tropical Storm Irene, Eurasian Watermilfoil was discovered in the Round Pond area of Lake Rescue, after a 10-year absence.  Since then, our mitigation efforts have increased each year, but in 2020, the situation reached a crisis level and has overtaken these efforts, with aggressive milfoil growth occurring throughout both Lakes Rescue and Pauline.  It could win, and mat over our lakes, making them unusable, as it has in other lakes. However, we have adopted a more aggressive remediation plan going forward, including the purchase of our own Diver Assisted Suction Harvesting (DASH) boat, which dramatically increases harvesting capabilities.  With this, along with continued hand-harvesting, the placement of 48 bottom barriers, and energetic volunteer efforts, we WILL overcome, but we must have your financial support.
IMAGES TOP TO BOTTOM:
Map of both lakes, green areas and red dots indicating milfoil
Diver Assisted Suction Harvesting (DASH) boat contracted in September 2020
Milfoil haul on one afternoon in September, assisted by LRA member volunteers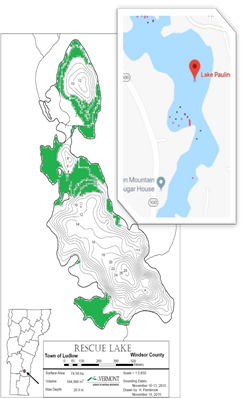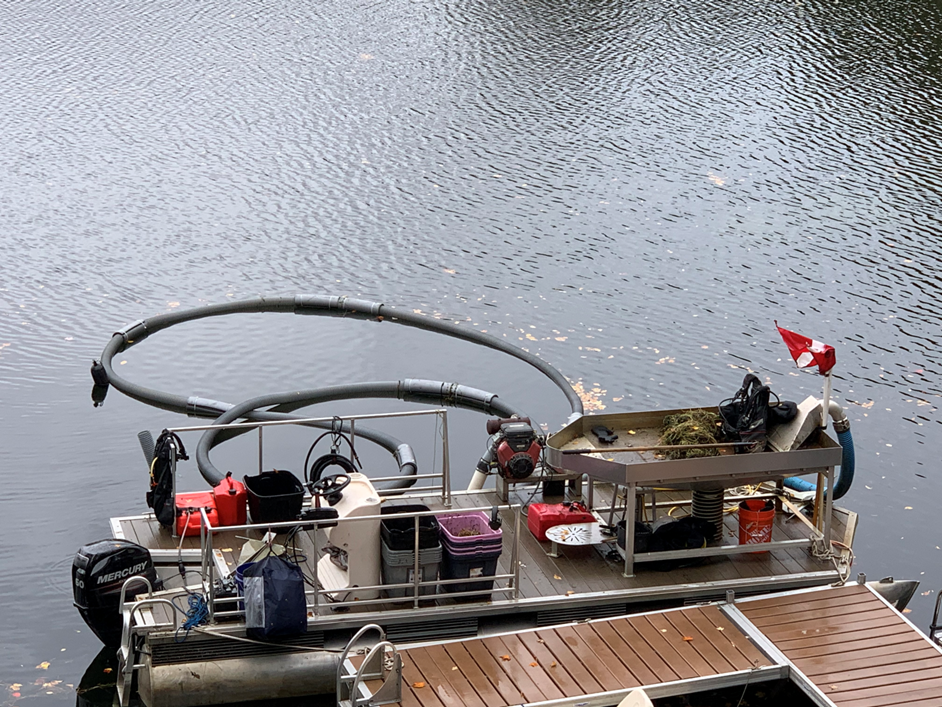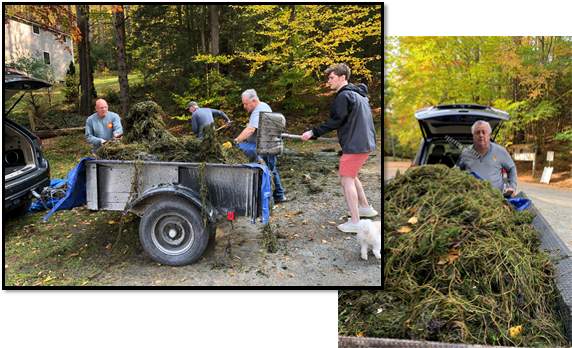 SEDIMENT DREDGING PROJECT
Dredging the mouth of the Black River and entrance to the Narrows, the gateway to Lake Rescue from the only public boat launch access and Round Pond homes, is again necessary.  First dredged in 2013 after Tropical Storm Irene, the sediment from still-fragile tributary banks has again accumulated to dangerous levels, disrupting the ecosystem, making navigation difficult and threatening the passage through the Narrows, which will eventually become impassable. Complicating this situation is the heavy infestation of milfoil in these shallow areas of Round Pond, where boats now frequently run aground and/or chop milfoil plants with their propellers, contributing significantly to milfoil spread.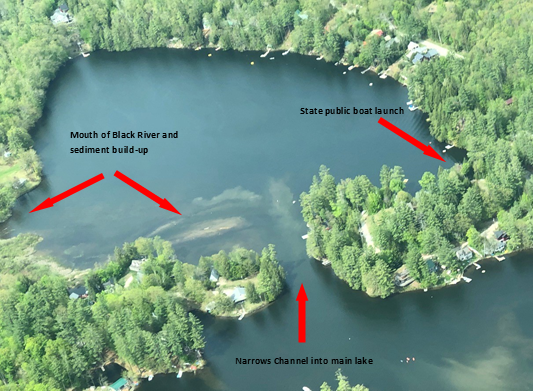 ---
---
The ROL Fundraising Committee
The LRA Board is profoundly grateful for the volunteer efforts of our member-driven ROL Fundraising Committee.  If you have questions or would like to help, please contact Gigi Katsiff or Spencer Rubin through the online LRA member directory, or email us at lakerescueassn@gmail.com.  Join us!
ROL Committee Members:
Gigi Katsiff (co-chair)
Spencer Rubin (co-chair)
Pete Andrews
Kathleen Golmont
Kara Gregory
Amy Newell
Liz Spaulding
George Thomson
Jackie Thong
Michele Zanca